Cookie Doh Co. is safe to eat now, anytime-anywhere!
Cookie Doh Co. Combines premium local ingredient with high quality Belgian chocolate chips from Callebaut, to create the best tasting edible cookie dough in Australia. Free from eggs and pasteurized substitutes, Cookie Doh Co. is safe to eat now, anytime-anywhere.
Available nationwide and handcrafted under stringent foodservice conditions in Melbourne, Cookie Doh Co. can sit unrefrigerated in ambient temperatures for up to 2 weeks, and if refrigerated upon receipt, up to 3 months in temperatures less than 4 degrees Celsius.
Fun to eat on its own or as part of cheeky kitchen creation, Cookie Doh Co. can be squished, smashed, slurped and sprinkled in many indulgent treats, including decadent sundaes, dreamy cookie sandwiches and delicious milk shake beverages.
Founded by Melbourne-based siblings turned entrepreneurs; Chris, Alex and Jess, Cookie Doh Co. pays homage to simpler times and celebrates the beauty of family, friends and having fun. At Cookie Doh Co., you're never too old to lick the spoon. www.cookiedoh.co


Interview with Chris, Alex and Jess Reece
Question: Can you share your earliest baking memory, with us?

Chris Reece: We all remember playing pretend with Mum, making cookies and cakes out of playdough in the kitchen! It wasn't long before we started using real ingredients and getting involved in the process, measuring, mixing and somehow always creating an almighty mess. Jess was the one that always had her fingers in the bowl afterwards licking up the mixture that didn't make it into the trays! Two of our favourite things to bake were Mum's choc chip cupcakes and Anzac cookies.


Question: What inspired you to start the Cookie Doh Co.?

Jess Reece: Alex and I had come across the concept in America in 2015 and the hype that edible cookie dough had started to cause. This sparked the memories of us spending time in the kitchen as kids and thought, Australia needs this, and we could be the ones to deliver it! We've always been close as siblings and this presented a great opportunity to work together on something, so we explored the idea further with Chris and got to work. I've always had a sweet tooth and love baking (and the left over mixture) so this was the perfect product for me and Chris and Alex both have business brains so that made us a pretty good team.


Question: What's new for the Cookie Doh Co.?

Alex Reece: We've recently introduced two gluten free versions of our flavours – Chocolate Chip and Triple Chocolate. It's amazing how many people come up to you at markets we attend and ask for a gluten free option – so we're now happy that we can say YES! We also have a few more exciting announcements expected over the next couple of months, so you just need to follow our social accounts to keep up to date.


Question: In what ways can we get creative with the Cookie Doh Co. products?

Jess Reece: We're all about fun and creating lasting memories, especially with family and friends, so we say the more creative the better. We want you to enjoy Cookie Doh Co. in whatever way makes you happy! We love to mix it in with ice-cream, or use it as an ingredient in other non-bake recipes such as a peanut butter slice, or maybe you could make cookie dough balls for your next birthday or girl's night in. The possibilities really only depend on your imagination! If you are struggling for ideas, we send out a little recipe card with suggestions in each order! We had a lot of fun thinking of these and trialing them out in the kitchen.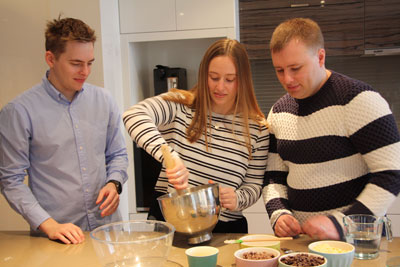 Question: How else can we use your cookie dough in other foods?

Alex Reece: As we mentioned earlier, we love to be creative with our cookie dough. It goes great with ice-cream or using our apple and cinnamon flavour to create doughnut balls is one of our favourite things to do! We love to see what our customers do with our product but often the simplest is the best; grabbing a spoon and digging in!


Question: Why do the Cookie Doh Co. products not need to be cooked?

Chris Reece: In regular cookies, there are ingredients like eggs, milk and regular flour. These can make you sick if they are eaten raw. We don't use any eggs, milk or pasteurised substitutes and utilise a heat-treated flour to ensure that it's safe to eat raw straight out to the tub.


Question: How long did it take for the team to manufacture a successful Cookie Doh Co. product?

Chris Reece: It took many months of trial and error to develop and refine the recipes, going through the taste testing process (my friends were not complaining) to come out with our first flavour, Chocolate Chip. Initially, when we started developing the recipes we weren't sure the product would ever make it to market, but once the ball got rolling and the positive response we received, we realised this could work. It was approximately 18 months from when we first started playing around to launching in August 2017.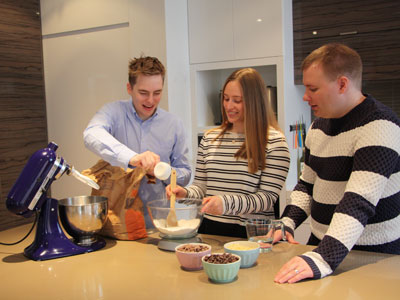 Question: What was your biggest challenge in starting the Cookie Doh Co.?

Jess Reece: As with any small business startup there are always challenges along the way. Getting our recipes right was where we spent a lot of time, as they really needed to be able to stand on their own. Also getting our heads around all the food safety, labeling and packaging requirements was definitely a learning curve, having never created or launched a food product before.


Question: What are your business goals, for the future and where do you see Cookie Doh Co. going?

Chris Reece: We're super excited about the future of Cookie Doh Co. Our goal is to enable as many people as possible to access our product quickly and conveniently. We're also working on some fun new recipes to bring to our customers later this year. Ultimately, we want to see people enjoying and sharing our product with family and friends, reminiscing or creating new lasting memories.


Cookie Doh Co. Flavours
Chocolate Chip
An old school classic, combining smooth cookie dough with premium Callebaut milk chocolate. Guaranteed to bring those childhood memories flooding back!
Fluffy, buttery and a cult favourite, Chocolate Chip serves as the most universal flavor of the bunch and makes the perfect standalone treat or addition to ice cream sundaes, milk shakes, or if you're feeling adventurous, cookie dough filled cookie sandwiches! You can thank us later…
RRP: $8.99, 250g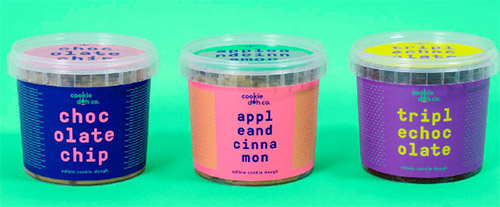 Apple and Cinnamon
Bringing back sweet dreams of Mum's perfect apple crumble and lazy Sundays on the couch. Combines real pieces of apple and cinnamon for a modern twist on a family favourite.
Sugar, spice and all things nice, our Apple and Cinnamon cookie dough offers a modern twist on a traditional family recipe. Ideal on its own, the dough ca
n also be used as a sweet side to apple pie desserts, as a mid morning cookie dough slice bar, or as a delicious topper to cup cakes. Yum!
RRP: $8.99, 250g
Triple Chocolate
A chocoholics dream. Starting with a rich cocoa cookie dough base, this indulgent treat is topped off with premium Callebaut milk, dark and white chocolate. In our opinion, nirvana is one tub closer…
If you've got those sweet cravings we've got the goods. Merging Belgian milk, dark and white chocolate, our Triple Chocolate cookie dough is the ultimate fix, serving as a solo companion to those cold nights, or as a new age twist to cake bases and fillings. Enjoy and don't ever look back.
RRP: $8.99, 250g
Review: Talk about your Naughty and Nice. Cookie Doh Co. has created not only perfect stocking filling for all the family, but the perfect treat to take on your holidays and camping. Make cooking interesting...