Nicole Kidman The Family Fang Interview
Cast: Jason Bateman, Nicole Kidman, Christopher Walken, Maryann Plunkett
Director: Jason Bateman
Genre: Drama
Rated: M
Running Time: 106 minutes

Synopsis: Though they live on opposite sides of the country, Annie (Nicole Kidman) and her brother Baxter (Jason Bateman) live parallel"and highly problematic - lives. She is an actress whose recent antics make her more visible in the tabloids than on-screen, and he is a down-on-his-luck writer whose latest far-fetched freelance gig has landed him in the hospital with a head injury. Because of this mishap, Annie and Baxter must return home to their eccentric parents, Caleb and Camille Fang (Christopher Walken and Maryann Plunkett, and played in flashbacks by Kathryn Hahn and Jason Butler Harner), for a period of recovery and reconciliation. And the reason these siblings are so messed up is that Caleb and Camille are no ordinary parents, and nothing about growing up in the Family Fang has prepared Annie and Baxter for life in the real world.

Widely respected and acclaimed by the avant-garde, the Fangs are radical, subversive performance artists whose disruptive 'creations" consistently shock and disturb the public while delighting aficionados of art. From earliest childhood, the Fang children have been performers"and pawns"in their parents' provocative pieces, and they have grown up with a surplus of stimulation but a shortage of stability. Needless to say, they are ambivalent about reuniting with their parents. Then, out of the blue, Caleb and Camille go missing, and every bit of evidence indicates that they have been victims of foul play. The police fear the worst, but Annie believes that this is yet another Fang 'performance""that her parents have faked their deaths to create another bizarre 'work of art." Piecing together a puzzle from assorted "Fangian" childhood memories, these grown-up children go on a hunt, hoping to learn the truth about what really happened to their father and mother. Along the way, they may also discover the truth about themselves.

The Family Fang
Release Date: December 1st, 2016



About The Production
Though they live on opposite sides of the country, Annie (Nicole Kidman) and her brother Baxter (Jason Bateman) live parallel"and highly problematic -- lives. She is an actress whose recent antics make her more visible in the tabloids than on-screen, and he is a down-on-his-luck writer whose latest far-fetched freelance gig has landed him in the hospital with a head injury. Because of this mishap, Annie and Baxter must return home to their eccentric parents, Caleb and Camille Fang (Christopher Walken and Maryann Plunkett, and played in flashbacks by Kathryn Hahn and Jason Butler Harner), for a period of recovery and reconciliation. And the reason these siblings are so messed up is that Caleb and Camille are no ordinary parents, and nothing about growing up in the Family Fang has prepared Annie and Baxter for life in the real world.

Widely respected and acclaimed by the avant-garde, the Fangs are radical, subversive performance artists whose disruptive 'creations" consistently shock and disturb the public while delighting aficionados of art. From earliest childhood, the Fang children have been performers"and pawns"in their parents' provocative pieces, and they have grown up with a surplus of stimulation but a shortage of stability. Needless to say, they are ambivalent about reuniting with their parents. Then, out of the blue, Caleb and Camille go missing, and every bit of evidence indicates that they have been victims of foul play. The police fear the worst, but Annie believes that this is yet another Fang 'performance""that her parents have faked their deaths to create another bizarre 'work of art." Piecing together a puzzle from assorted "Fangian" childhood memories, these grown-up children go on a hunt, hoping to learn the truth about what really happened to their father and mother. Along the way, they may also discover the truth about themselves.

About the Production

Exploring the volatile connections between parents and children and the ever- shifting lines between art and life, The Family Fang tells the story of an unusual family caught up in a situation that promises to be a defining moment for their relationships, past, present, and future. Enlivened by characters and incidents that are funny and fanciful, but grounded by emotions that are real and universal, The Family Fang is based on the acclaimed best-selling novel by Kevin Wilson, adapted for the screen by Pulitzer Prize-winning writer Davis Lindsay-Abaire, produced by Nicole Kidman, and directed by Jason Bateman. Boasting extraordinary performances by Academy Award-winner Nicole Kidman and veteran actor Jason Bateman as Annie and Baxter Fang, the soul-searching siblings trying to make sense of their unconventional childhood, and Academy Award-winner Christopher Walken (at his crazy-like-a-fox best) and Maryann Plunkett as Caleb and Camille Fang, their avant-garde, performance artist parents, the film is a wise and witty, albeit outrageous, tale of legacy and the long, winding, sometimes wacky path we all must travel to become who we are.

'The Family Fang" was embraced by both readers and literary critics when it was published in 2011. They were intrigued, entertained, and disturbed by the novel's imaginative humour, subversive drama, and provocative, tragi-comic universe. 'The Family Fang is a comedy, a tragedy, and a tour-de-force examination of what it means to make art and survive your family….The best single word description would be brilliant," wrote novelist Ann Patchett. 'Kevin Wilson expertly navigates between pathos and black comedy…Fang has bite but is also incredibly fun," praised Time.

As much as fans appreciated 'The Family Fang's" eccentric characters and wild peculiarities of plot, they also responded to the novel's skilled use of storytelling traditions, the kind found in classic fairy tales and films. Like Hansel and Gretel in the Brothers Grimm, or Tyltyl and Mytyl in Maeterlinck's play 'The Bluebird" Annie and   Baxter are modern-day fairy tale children in peril, on a quest for self-discovery in a world that becomes increasingly hostile and dangerous when - and where - they least expect it. As author Wilson says about their imaginative and emotionally-charged journey, 'the house they find is their childhood home, and the 'witch" turns out to be their own parents." Film comparisons are inescapable, too. In the first paragraph of his Washington Post book review, Ron Charles invoked The Addams Family, Cold Comfort Farm, and Little Miss Sunshine as antecedents to the novel. Immensely popular, the book landed at the top of the New York Times Best-Seller List.

'The Family Fang" caught the attention of Nicole Kidman, who immediately responded to the book's cinematic qualities. 'I thought it would make an amazing film," she recalls. 'Kevin writes so cinematically that it was easy to imagine the story on screen." Like most readers, she says she 'was drawn to the comedy of the book at first, the outlandish situations these people end up in." After a few chapters, however, she recognized the darker themes beneath the novel's antic facade. 'I thought it was bold writing. It surprised me and disturbed me, what was driving these characters. It's what gives the story its great twists and turns. I was drawn to that"to the logical but unpredictable outcome of these damaged people. I think 'The Family Fang" communicates something important thematically. In our world of social media, selfies, and narcissism, the story of the Fangs is a cautionary one."

Nicole Kidman sent the book to Olympus Pictures, the company that co-produced and financed her previous film, Rabbit Hole, and together they developed the book into a screenplay. 'It was really a home-grown project made from love for Kevin Wilson's writing, and I think that really appealed to him," she says. She hoped that Wilson would write the script, but he encouraged the producers to find a screenwriter to do the adaptation. Kidman immediately reached out to writer David Lindsay-Abaire, who won the Pulitzer Prize for Drama in 2007 for his play 'Rabbit Hole." 'David Lindsay-Abaire is a brilliant writer," she praises. 'My relationship working with him on Rabbit Hole is one I absolutely treasure. He's pretty much the first stop with any material we develop.

In this case, David Lindsey-Abaire was the first and only writer we approached after Kevin, which makes sense when you think about his ability to combine the comedic and the dramatic, the dark and the light, the surreal and the real."

Finding the right director to handle the film's unique voice was Nicole Kidman's next step, and she discovered that actor/director Jason Bateman was a fellow Fang fan.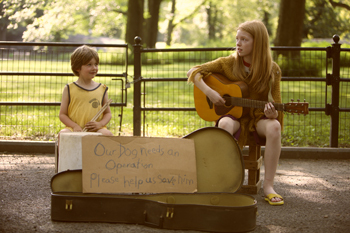 'Hearing his ideas, I knew he had to direct the film," says Nicole Kidman. 'He connected with these people and brought a very personal and specific insight into their adventures, into their struggles. Above all else, Jason Bateman wanted to make sure we felt the heartbreak amidst the comedy. I've always loved Jason Bateman's work as an actor. He brings such empathy to his characters, and I was curious to see what he would do here as a director." Nicole Kidman had seen Jason Bateman's directorial debut, Bad Words, and was impressed by his ability to act and direct on the project.

'David Lindsay-Abaire's script was sent to me, and I raised my hand and said I would love to direct and act in it," recalls Jason Bateman. 'The script had a very engaging narrative – a chewy, sticky, tangible narrative – and that was part of what attracted me to the project. It doesn't scream mainstream, it's not popcorn or something super simple. It's a film that is non-linear and covers 40 years of multiple themes that come together in a complex and fascinating way." He suggests that the parent-child dynamic at the heart of the story is something to which most people can relate. 'Like Annie and Baxter, at some point you go through this inevitable transition of the perception of your parents," Jason Bateman observes. 'We start with a simple, idyllic view. First, our parents are our heroes, the people we look to for clarity and guidance; then, as we age, it gets more complicated. When we get older, enlightened, and more cynical, we see them as being every bit as human as we are. Parents start out as our heroes, then become our peers, and finally become our children. There are moments in life where that transition becomes transparent and inescapable, and this is where the Fang siblings find themselves at the end of the story."

  Jason Bateman, who made his acting debut at the age of twelve on the long-running television show 'Little House on the Prairie," and became the DGA's youngest-ever director when he helmed three episodes of 'Valerie" at age eighteen, has a unique perspective on prodigies, parents, and unusual childhoods. 'Directors and actors are attracted to things they know," he observes. 'I've had a very atypical and non-traditional childhood – there are pluses and minuses to that. But the question of the right and wrong way to raise your children is something I have always wondered about. No one knows what the right answers are, and who are we to decide?

I'm a happy guy and have no regrets about my childhood, yet I find the rights and wrongs of parenting a really interesting subject."

In The Family Fang, unusual circumstances for both Fang children put them back at home with parents they had spent years keeping at arms' length. And as Ron Charles of the Washington Post points out in his book review, 'The truth is worse than Thomas Wolfe ever imagined: it's not that you can't go home again, it's that you must." 'When adult children return home, the situation is equal parts tragic and hilarious," Bateman observes. 'There are no real jokes in the movie, no pleasantly tamped down examples of family life. The Fangs are kind of cool, eccentric, dysfunctional, colourful – and all of that adds up to make their family – and every family, for that matter, fascinating to examine."

Perhaps the greatest challenge in bringing The Family Fang to life was finding the right cast. While the characters are unconventional, exaggerated, and sometimes unlikable, they are, at heart, wonderfully human, with flaws that are recognizable and relatable. Initially, Kidman was primarily interested in producing the film, but David Lindsay-Abaire convinced her to play Annie. She, in turn, reached out to Bateman to play Baxter, and he was entirely comfortable directing himself in the role. 'It's one less actor for me to direct," he explains. 'I have a really good sense of when I am close to acceptable and when I am terrible, and because I have 36 years of acting experience, I have a good idea of what I want. Also, we have playback, so I can put on my audience hat, see if I've gotten what I need, and move on."

With the Fang children in place, Jason Bateman started to imagine his perfect Caleb, the patriarch who dominates the Fang family with maniacal zeal and steely conviction. Caleb is the lynchpin of the story: he had to be convincing in his uncompromising 'art for art's sake" approach to life - this is a man who shot himself with a gun and called it a performance piece. But he also had to be diabolically charismatic to explain his hold on his family and his fans. 'Christopher Walken was my dream choice for Caleb," says Jason Bateman. 'I never saw anyone else in the role. Fortunately, he liked the script, he beautifully communicated the artistic personality of the character, and he liked me. His interest in the story was a huge validation and gave me a lot of confidence."

Nicole Kidman agreed that Christopher Walken was the ideal actor for the role. 'Christopher Walken is the real deal. He doesn't fake it. He approaches every role with complete integrity and respect for the character. His performances are masterful because they come from a place of truth, a place of humanity. He is one of the greatest actors of his time," Nicole Kidman praises.

Camille, Caleb's wife, posed a different casting challenge. While both characters are completely committed to expressing their art, and at any cost, Camille is more vulnerable and less rigid than her husband. Maryann Plunkett, a veteran of Broadway, plays the role in a way that compliments Caleb, yet allows the character to maintain her own personality. 'Maryann exudes this energy of being a nurturer, of maternal protection, an unassuming generosity of spirit, so essential to Camille," says Nicole Kidman.

'She is a fantastic actor who has an easy and elegant way to expose every part of her humanness and her vulnerability," adds Jason Bateman. 'Every character in the film is going through something very raw and you need actors confident in communicating this. There is nothing loud or obvious in the film. Everyone needs to know how to play their instrument in a low volume and still get it out there."

It would be easy to dismiss Caleb and Camille as crazy. Kevin Wilson says 'the Fangs, Caleb in particular, are difficult people. But, if you dig deeply enough into almost any character, you'll find something worthy of sympathy."

  Jason Bateman adds that Christopher Walken and Maryann Plunkett brought dimension, complexity, and even humanity to characters who might have been perceived as mad or villainous. 'They found a way to make Caleb and Camille credible, and even sympathetic at times. We had some conversations about whether or not these terrible, narcissistic parents felt as if they were doing anything wrong. Our conclusion was that humans can justify a lot of bad behaviour, and Caleb and Camille always believed that they were right."

In thinking about how to capture the project's range of tones, Jason Bateman knew that he wanted to avoid turning the characters and their story into caricatures. 'The kind of drama and comedy I like live close to the median -- I don't like melodrama and I don't like broad comedy," he explains. 'As director, my job is to keep things as raw, organic, and relatable as possible, so I can toggle back and forth." Jason Bateman calls directors Paul Thomas Anderson, David O. Russell, and the Coen brothers his heroes.

'The Coen brothers are masters at creating unique and specific niche environments and societies - they create situations and decisions for characters that we, as high-functioning people, would never do. And if a character is going to do something you would never do, you have to create a universe where that action is plausible."

Experience can be the greatest teacher when it comes to directing, Jason Bateman points out. 'I learned so many things from directing Bad Words," he says, 'While the director can control, or at least contain, many elements of the process, the director can't control - and in my opinion shouldn't attempt to control - the performances. The performance is the actor's prerogative. You can't dictate behaviour when it is constantly changing. You need to inspire and support an actor, and give them the kind of confidence they need so they can be fluid and instinctive. But my responsibility as director is to see what an actor wants to do with a character and then to let him do it."

Directing The Family Fang was a complex undertaking because in addition to bringing the present-day story to life, Jason Bateman also had to film the dynamic and shocking 'Fangian" performance pieces that punctuate the narrative.

Jason Bateman admits to knowing next to nothing about performance art as a genre but he knew it was the right kind of art for these parents and this story. 'Unlike painting," he notes, 'it is the kind of art that is participatory." At various times, Caleb stages a robbery, contrives an intimate romantic scene between his two adolescent children, and, ultimately, plots his own disappearance, all in the name of art. 'How should we position the Fangs?" Bateman wondered when preparing the film. 'The question about art, and the legitimacy of that world in the movie, is something we had to consider. Are they clowns, or are they respected? Are they really famous or pseudo-famous?"

As Wilson did in the novel, Jason Bateman chooses ambiguity over transparency. 'Determining the quality of the art is not as important as understanding how it demonstrates what kind of parents Caleb and Camille are, and the effect the art has on their children," he explains. 'What is important all the way through the story is to have a sense of the children's melancholy and their unsettled feeling. The performance pieces are meant to be more revealing about the children -- what they went through, and the damage that was done to them -- than determining the validity of the art or the audience's reaction to it."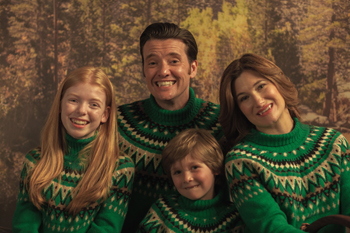 Jason Bateman conceived a subtle look for the film that serves as a visual counterpoint to the action. 'I wanted the table to be set properly so that immediately -- and consistently -- the audience could be in a visual world that was appropriate for the story. There are ways to make a film look more polished, more saturated, more like eye-candy, but aesthetically I wanted the film to be more connected to the content." He found the ideal collaborator in Ken Seng, his cinematographer on Bad Words. 'Ken Seng is one of my best friends," says Jason Bateman. 'I work with him seamlessly. For this film, we were going for a Gordon Willis kind of palate – minimal light, melancholy, but not sad. And I knew Ken Seng could achieve that, as well as meet the challenge of shooting a film that spans 40 years and involves subtle differences in continuity, composition, and framing as the characters age.

The performance pieces were particularly complex because it was possible to shoot them as Caleb and Camille shot their own films over the years. 'It took a lot of conceptualizing and planning. We figured out a way to use different mediums at different times." Jason Bateman recounts. 'We see young Camille shooting in Super 8, and Caleb shooting in Beta. Similarly, in the course of the story we used everything from 16 millimetre film, to beta video, and then digital in the present-day scenes. I wanted the film to have a raw, lived-in look, so we actually de-saturated the colour instead of turning up the dial to make it popcorn pretty."

The music for the film was written by Carter Burwell, known for his many collaborations with the Coen Brothers. 'Carter is a master at guiding tone," notes Jason Bateman. 'He was my only choice to be the composer." Nicole Kidman credits Carter Burwell with finding the perfect balance between light and dark, comedic and dramatic. 'He also brings beauty and suspense, which play perfectly in and against how Jason shot the film," she adds.

In his 19th century masterpiece, Anna Karenina, Tolstoy wrote, 'All happy families are alike; each unhappy family is unhappy in its own way." The Fangs - Caleb, Camille, Annie, and Baxter - bring this wise observation to life in a contemporary context.

The Family Fang is about relationships, that delicate human interplay which can so easily go astray," says Nicole Kidman. 'It's not just about parents and children and art. It's about all of us - a cautionary tale about the damage we can inflict on the people we love." As the film's provocative title suggests, relationships have teeth that bite. But how we recover from our wounds is a testimony to our humanity.


The Family Fang
Release Date: December 1st, 2016